I've been thinking about how to address this subject because I mainly review young adult, however, I think most of my readership tends to be much older than the teens. I think that's just the way it goes. So, just to let everyone know I will be talking about sex, making love, fucking and anything else you want to call it. So be warned.
There's always been a divide between people who think sex doesn't belong in the young adult world (explicit), obviously, some of the antagonist and protags have sex but it seems to be behind the scenes. Or it can be written in a way that if you weren't quite understanding what was going on, you could gloss over it. One example I'll use is Melissa Marr's
Wicked Lovely
. Ash (our heroine) and Seth (the guy who is crazy about her) talk about sex. He's had it. Plenty of times. She hasn't. They're debating taking the relationship one step further. They've been getting closer and Melissa quietly states that Seth is kissing Ash where she's never been kissed before. Now, I'm not an idiot and I know that she was talking about oral sex. However, with her carefully worded sentence a naive teen would've just read it and moved on. So sex is there.
In
Vampire Academy: Shadow Kiss
. Dimitri and Rose finally give in to their feelings and during a moment when Rose is completely losing it, thinking she's going crazy, Dimitri is there to help her through it. But once she comes back to him. They make love. It's sweet, it's romantic and it's about time. We all sighed when those two crazy kids finally, FINALLY did the deed. Albeit, it was a short-lived happiness, but that's another story to tell.
So two examples for sex in YA. I know kinda boring, but it excites some teens.
I remember when I was a teen (long before the YA market exploded), I was reading Jackie Collins books under my blankets with a flashlight. There was something intriguing reading about the rich and famous and how they would jump from bed to bed. She, too, was very descriptive in her sex scenes. If the teen is old enough to know about sex and what it entails, then they're old enough to read about it.
I think a sex scene can be written extremely romantically and one thing the authors that are writing these books, have that down pat. Why shouldn't two people who love each other make love? If it's there in the story, then in between the lines of said story the two characters will eventually fall into bed. Why leave it at the end of the chapter to start a new chapter that begins with a glowing couple all sweated out and exhilarated? Obviously, some authors want to leave it up to the imagination of the reader to think of what sort of stuff is going on. But they're still writing about sex.
What's a passionate relationship without making love? Probably not as passionate as one would think. I think the reason why vampires became all the rage was because they could be sexual and sensual, and honestly, who doesn't want someone gorgeous sucking on your neck?!? I always took vampirism as a metaphor for sex, the need to taste, touch, own, possess. We know that Bella and Edward tease each other merciliessly with sex. His smouldering look, her touch, his kiss, etc. Even in
Dracula
, by Bram Stoker, he is a wholly sexual character.
With the advent of mature young adult and new adult (which I think is for those age groups 18-27)? We have characters who give in to their basest nature. These are college age kids who are finally free from parents' thumbs and want to enjoy life. They fuck, they have oral sex, they enjoy being with one another.
Unless you're doing the deed with your boyfriend's best friend. Then all sorts of shit hits the fan. Interesting segue for the book I just read and cannot recommend enough. If you're a fan of
Beautiful Disaster
, I think you'll like this one just as much.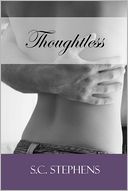 S.C. Stephens series
Thoughtless
, is a roller coaster, heart palpitating, pants wetting book. It might be a bit cliched with the theme and plot, but she manages to overcome some of those cliches by really getting into the emotional aspect of the story. Kiera and Denny, are moving 2500 miles away from Ohio because Denny (who is Australian) has just graduated college and has a job at a very respectable ad agency in Seattle. Kiera is leaving her family for her boyfriend of two years. She's madly in love with him and will be transferring to the University of Washington with a pretty decent scholarship in tow. Luckily, Denny did a year exchange from Australia in high school, so he's staying with his friend Kellen Kyle. He, who happens to be a local rock star.
Although Kiera is not a virgin, Denny has been her first and only. Living with him is glorious. When Kiera first meets Kellen, she thinks he's extremely good looking, his band is fantastic, but he seem to overdo the whole sexuality when he's performing. He flirts with every woman in the audience and the women consider him their rock god. Denny, Kiera and Kellen have a really good relationship. Everything works out well. Kiera even gets a job at the bar that Kellen's band has a standing weekend gig. Plus, the it's the band's home away from home, so she sees the D-Bags a lot. (The band's name is The Douchebags, but if they want to go mainstream that will need to change.) Denny's job as an intern is going so well the company asks him to help start up an office in Tuscon, AZ. Kiera is crushed. He'll be gone for two months (they moved to Seattle in June). She tries to keep a brave face, but she's despondent. Kellen does try to get her out of her funk, by including her in band activities or watching a movie with her. Having dinner with her. Their friendship becomes stronger. His glances last a bit longer as does hers.
While attending and arts & music festival, Kellen stays close to Kiera, wrapping his arms around her waist. She rests her head on his chest. He holds her hand during crowds. Wins her a stuffed puppy, which he gives to a crying child whose ice cream has fallen. Kiera notices something changing. With Denny calling less and less, Kiera relies on Kellen to help her through her funk.
When Denny finally does call, Kiera is unhappy, missing him, not sure what is going on between her and Kellen. However, Denny drops a bombshell. The agency has offered him a permanent position in Tuscon and he's accepted. Kiera is livid. One because he took the job days ago, two, he didn't consult her, and three she couldn't just leave school, Seattle, etc. Denny tells her that he'll wait for her to finish school and then she can come to Tuscon. Pissed off she ends the relationship.
And then comes the drinking. And the tears, and more drinking and more sobs. Kellen arrives home and seeing Kiera in a state, questions her. She refuses to tell him, but then he manages to get it out of her. The only thing to help a broken heart? Tequila, and more tequila. Then there is touching and licking, oh, and don't forget the kissing. Kiera wakes up the next day, naked, hung over and not in her bedroom.
Trying to remember the night before it comes back to her in painful flashes. But the one thing she remembers is that it was amazing. Kellen is a bit of a man whore when it comes to women. When we learn how many women he's been with (in the biblical sense it's mind blowing). Kiera manages to get to work and being unable to do anything leaves work early. To wallow over her break up with Denny and her night with Kellen. While sound asleep, her bedroom door opens and Kiera is petrified that Kellen will be kicking her out. But it turns out to be Denny who has given up his dream in Tuscon to be with Kiera.
Kiera is devastated that Denny gave everything up for her, that she cheated on him with his best friend. (and her best friend as well.)
Although there are ups and downs in the strained relationship with Kellen and Kiera; Denny remains oblivious. Kellen has given Kiera the cold shoulder; turns out Kellen came home the night Denny did and heard the two of them making love. As much as Kellen has been an ass to Kiera, he finally comes to the realization that he has to change things. So he invites his two roommates out to listen to another local band at another local pub. Denny has accepted another job that he hates so he's been moody and listless, Kiera is miserable. During the night out, Denny gets a call from his boss (who has him on constant speed dial), and goes off to take it. Kellen turns to Kiera and tells her he's leaving. Sensing what he means, she follows after him begging him not to go, that she needs him. Needs his friendship. It all comes to head in the parking lot when they crash together, lips, arms, legs. The fuck right there in the open espresso stand. It's rough, it's passionate, it's crazy and nuts. It takes them to great highs that it all comes crashing down as soon as they finish.
Kiera more confused then ever finds herself drawn more and more to Kellen. She's not that gorgeous beauty that he's used to, but she's pretty enough. Kiera and Kellen sneak kisses, and hugs and holding hands. Brushing against each other.
Kellen's man whore comes out and he starts bringing women home after Kiera explains that she can't stop making love to her boyfriend. During one heated exchange, while Denny is asleep in the next room, Kellen and Kiera make love. Yet, she slips back to Denny feeling horrible and unsure.
It all comes to a head, when Kellen finally tells Kiera that he's fallen in love with her and she has to make a decision. Kiera wants steady and safe, but she wants the thrill that is Kellen. The passion that she feels for Kellen she doesn't feel for Denny. Kellen give Kiera a simple necklace of a guitar with a diamond in it. Knowing that Kellen is leaving again she begs him not to. And again they give in to the basest of desires, but this time, they get caught. Denny has witnessed the whole exchange.
Denny was never the bad guy. Kellen was never the bad guy and Kiera was never the bad guy. Sometimes, things happen for a reason and we just can't argue with the way things pan out. Kiera felt guilty that Denny gave up everything for her, but she did the same. Kellen didn't mean to fall in love with Kiera but she brought out feelings in him that he'd been searching for many years. The one thing that Denny noticed was the love between the two. When Denny originally left for Tuscon, he warned Kellen to keep his hands off of her. She was his. But how was he supposed to know that it would go both ways?
After everything is said and done and Kellen gets a pretty good beating from Denny, just as Denny is about to kick Kellen while he was down, Kiera jumps in front of Kellen, getting a very heavy toe-steeled boot in the head.
Denny is devastated that he injured her, Kellen is all broken up (literally, broken ribs and arm), he refused to fight back. Unfortunately for Kiera who has been out for days, both guys break up with her. Thankfully her sister has come back (Kiera thinks her sister and Kellen slept together) and finds an apartment, and ironically gets a job at Hooters.
Kiera had an affair, she loved two guys but one perhaps a bit more. Although the sex is a bit more explicit in this story, I still don't see why it couldn't be for mature ya. There's a passing mention of pot, but none of the characters really do drugs. They drink and have sex. Lots of sex.
Sex is portrayed in this story as a way to get close to the other person, to express their love for each other. Kellen, Kiera and Denny are great characters and each have flaws.
There is also a sequel to this
Effortless
and I just found out the other day that a third book will be coming out in December called
Reckless.
Thank god it's December because my heart couldn't take another one right away!