It's been a few weeks since I've done this meme and it's only because I have lack of inspiration. If anyone has any books they'd like me to cover, please leave a comment. Tell me why you think this book deserves a second or even a third look. I really enjoy doing this meme and it gets books that most people haven't read to take a look at. Also, I've decided to sweeten the deal if you leave a comment with a book to use in THE BEST BOOK YOU'RE NOT READING, you are entered in to win a copy of Katherine Applegate and Michael Grant's forthcoming scifi book EVE & ADAM.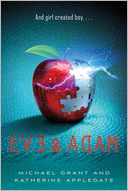 This is quite easy and I know that people are really interested in this book. So fill out the comments and I'll use randomizer.org to pic a winner. There must be a minimum of 10 responses before the contest will kick in. So tell your friends about this. If you are under the age of 13, please make sure you have your parents permission. I am opening this up internationally so everyone will have a chance to win. Also, please do not leave your e-mail address, but if you could leave your first name only that will help a lot or make sure that your blogger or wordpress name has information so I can e-mail you when I pick a winner. This will be a quick contest just the five days of this week. I will pick a winner on Friday, June 29, 2012.
Okay, so a minimum of 10 responses (get friends to help), must have parental permission if you're under 13. Open Internationally!
YOU MUST HAVE A BOOK AND REASON WHY IT SHOULD BE CONSIDERED THE BEST BOOK YOU'RE NOT READING!!! TO BE ENTERED INTO THE CONTEST. IF NOT YOU ARE AUTOMATICALLY DISQUALIFIED.
GET READY!
GET SET!
GO!