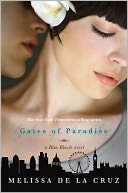 This is the last one. I've been reading this series I think since 2007 and I'm not ready to let
this series go yet. I know I have until January of 2013, but still, does Jack and Schuyler get their
happy ever after? I've had some issues with a few of the installments where they just didn't seem to flow as well, but like I said, I'm invested.
I'm not sure about the cover though.
I've just started this series and I'm really enjoying it a lot. It took me a while to jump on the Daemon bandwagon, but after ONYX, I'm pretty much there. Although the ending left me a bit devastated. I'm glad that a certain triplet is back, but sad that one had to die.
Yeah, I'm looking forward to this one. I'm curious to see where Tahereh goes with this one. Plus there is Adam. I ubbida Adam:)
Another beautiful cover for this series. I'm very curious where this will go and how it will end.
I am biting my fingernails for this one. The first book in the series THE OPPORTUNIST freaking depressed me, made me think and just about destroyed me. THAT is what I love in a book. Plus, just look at this cover, it is freaking gorgeous!