From Jill at Breaking The Spine
I'm really looking forward to this next book. I'm a big fan of this author and I think writing with his wife will just make this one explode. Plus, it has some basis in Genesis in the Bible.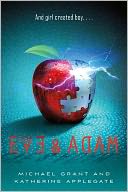 This cover is equally kick ass and cool. Plus the tag line: And girl created boy... is totally awesome!