The Rise of Renegade X, Chelsea Campbell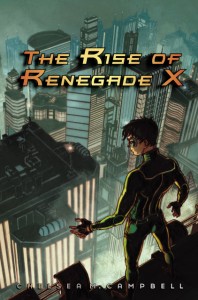 Oh, how I love this cover and the author. Chelsea is just too cute for words and she's a HUGE
Matilda
fan (movie, not sure if she's read the book!).
This is from her website:
Damien Locke knows his destiny–attending the university for supervillains and becoming Golden City's next professional evil genius. But when Damien discovers he's the product of his supervillain mother's one-night stand with–of all people–a superhero, his best-laid plans are ruined as he's forced to live with his superhero family.
Going to extreme lengths (and heights), The Rise of Renegade X chronicles one boy's struggles with the villainous and heroic pitfalls of growing up.
This book just sounds like a ton of fun and evilocity:) (I made that word up!)