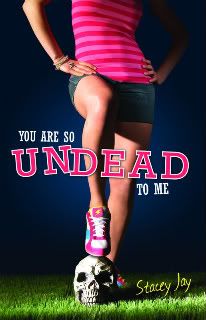 Megan Berry is a 15 yo Settler. When the dead have unfinished business they search out the settlers to "settle" their issues. Normally it's all very quick and easy. Megan has been doing this since she was five. Something happened to her when she was 10 and her powers stopped, but now they're back again. Her first Settling is also on her first date with the hottest senior in school. So when the Undead shows up, Megan freaks and doesn't know what to do. After sending the Undead off (and leaving his arm), Megan must hightail it to the cemetary to re-bury the arm. Unfortunately she is met there by Protocol Officer, Ethan. Who is definitely not happy that Megan was biking thru town with a dead arm in a garbage bag. Ethan is then sent to protect Megan when someone starts reanimating the Undead and Reanimated Corpses are worse than your basic Undead who has unfinished business. Part comedy, part horror, part love story, this has it all.
You Are So UNDEAD to Me
is published by Razorbill and due out in January 22, (date change) of 2009!!!!